TOKY is the No. 1 unit in the North in providing services for sanitary partition accessories in general and 304 stainless steel accessories in particular. We are confident to become a companion in all sanitary partition construction projects for large and small businesses in all provinces and cities with the best price and after-sales policies on the market.
What are 304 stainless steel toilet partition accessories?
304 stainless steel toilet partition accessory set
Complete set of 304 stainless steel toilet accessories including partition legs (V1, V2, V3, V4, V5), 4-hole hinges, 6-hole hinges (left or right), lock, handle , hanger, corner. Stainless steel 304 has many outstanding advantages compared to other lines of toilet partition accessories on the market, so it is chosen by the majority of customers.
>>> Accessory 304 is used synchronously for both compact toilet partitions and mfc toilet partitions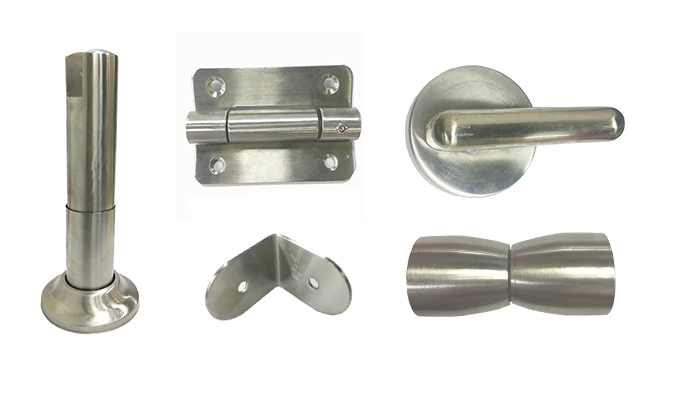 Characteristics of 304 stainless steel toilet partition accessories
304 Stainless Steel toilet partition accessories contain a Nickel content of at least 8%. Below are 5 outstanding advantages that make many people choose this type of sanitary accessory as their priority:
- Durable over time:
Thanks to its ability to withstand high temperatures, corrosion resistance, impact resistance, and difficulty rusting... 304 stainless steel toilet wall accessories help increase the longevity of your project. 304 stainless steel toilet partition accessories are considered by experts to be twice or even three times more durable than similar products made from other materials.
- Luxury and class - Enhance life
Undeniably, the surface of sanitary partition accessories products is not as shiny as plating, but always creates a unique, attractive point with solid and long-lasting durability.
- Easy to install: Smooth surface, simple structure so very convenient for the construction process
- Safe for health and environment
The 304 stainless steel surface has a shiny matte white finish, minimizing bacteria that can stick to accessories. Especially thanks to the smooth surface, cleaning is also easy.
- Rich designs
304 stainless steel material is always a plus point, helping toilet partition accessories made from this material have many diverse and highly aesthetic designs, helping you to choose more freely. The high-quality 304 stainless steel toilet partition accessories products provided by Toky are manufactured according to advanced standards, and will best meet the strict requirements of all types of spaces, enhancing people's lives. Friend.
>>> You are interested in how to install 304 stainless steel toilet partition accessories.
Retail price of 304 stainless steel toilet partition accessories
Currently on the market, there are many units confusing quotes between 304 stainless steel and 201 stainless steel sanitary accessories. In this article, we will provide a price list for genuine 304 stainless steel bathroom partition accessories. 2021 of the leading reputable distributor of TOKY toilet partitions in the North. Price list details are as follows:
STT

Tên sản phẩm

ĐVT

SL

Giá

1

Bản lề 304 không phân biệt (1 bộ 2 cái)

Bộ

1

120.000

2

Bản lề 304 6 lỗ trục to (1 bộ 2 cái)

Bộ

1

150.000

3

Tay nắm 304

Chiếc

1

50.000

4

Chân 304 rỗng (Cao 100mm hoặc 150mm)

Chiếc

1

Cao 100: 90.000

Cao 150: 110.000

5

Chân đặc 304

Chiếc

1

110.000

6

Chân MFC ( Inox 304 )

(chuyên dành cho tấm MFC khe 18,5mm)

Chiếc

1

90.000

7

Khóa béo 304 trắng

Chiếc

1

70.000

8

Ke góc 304

Chiếc

1

10.000

9

Móc áo đen

Chiếc

1

20.000
>>> See full price quote for all types of toilet partition accessories.
Where to distribute reputable 304 stainless steel toilet partition accessories?
Because there are many suppliers of 304 stainless steel toilet partition accessories, consumers are confused about which reputable supplier to choose. Because accessories not only account for a high percentage of costs but also directly affect the quality of the project if poor quality products are used.
The number 1 sanitary partition accessories unit in the market
In Vietnam today, TOKY is the number 1 unit in the market that is always recommended and trusted by many people for its service of supplying sanitary partition equipment and accompanying accessories. Why? By, TOKY:
Importing accessories directly in large quantities so our prices always have the most competitive levels and after-sales policies are the most competitive on the market.
Product quality: Meets Japanese contractor standards. Toky is committed to providing products with correct specifications and the right type of accessories. All products have full CO and CQ certificates; ISO 9001 – 2015 standard. (See CO, CQ details).
Toky has the longest warranty policy on the market: Specifically: 10-year warranty with water-resistant properties of Compact panels. 12 month warranty for the entire project; Carry out warranty within 48 hours of receiving the request. (See warranty policy).
Always commit to ensuring the signed progress. Fast construction speed reaching more than 100m2/day completed.
How to contact Toky to collaborate?
You can contact hotline: 024.6327.3666 for more advice on wholesale prices of toilet partition accessories and other services from Toky's team of skilled experts with many years of experience. Or visit the website: https://toky.vn to order as well as chat and consult online.
Please see our detailed product information and installation instructions for each 304 stainless steel partition accessory below: