Toilet partition accessories made of high-quality plastic are popular products on the market because of their low price and relatively good durability. If you are having difficulty with the cost of sanitary installation, plastic accessories are a very suitable choice, both bringing high aesthetics and saving costs for the user.
Technical specifications of black plastic partition accessories
| | |
| --- | --- |
| Chất liệu phụ kiện | Phụ kiện vách ngăn vệ sinh bằng nhựa |
| Màu sắc | nhựa đen |
| Ứng dụng | vách ngăn vệ sinh compact và mfc |
| Độ dày khe | 12mm / 18mm |
| Đặc tính | Chống ăn mòn, chống cháy, dễ làm sạch |
| Chất lượng | tốt |
| Chống ăn mòn | tốt |
| Chống va đập | tốt |
| Cường độ chịu tải | tốt |
| Nhà cung cấp | |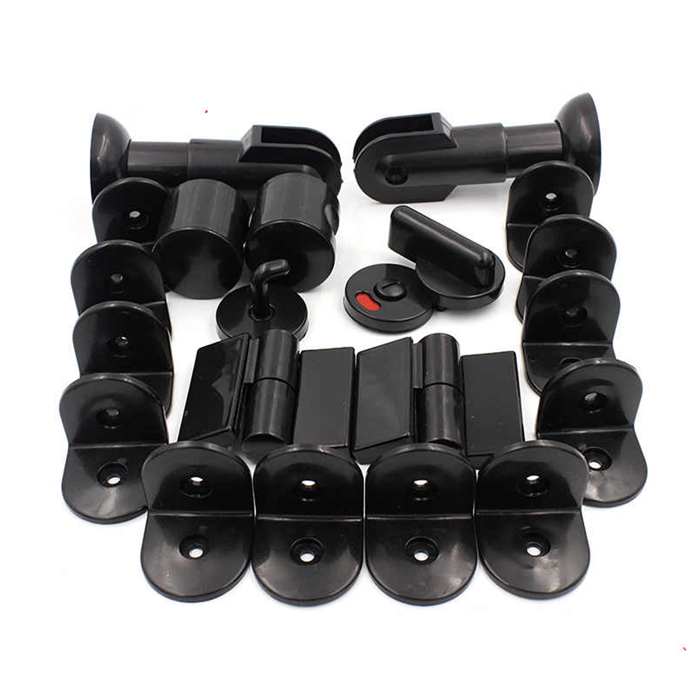 What does a set of plastic partition accessories include?
Accessories are made from the main raw material of high-quality plastic, characteristic black color, distributed directly by TOKY toilet partition supplier.
Plastic toilet partition accessories are mainly used in the installation of restrooms and public bathrooms, suitable for all design spaces.
The complete composition of a set of plastic accessories includes: 2 hinges (1 set), 1 handle, 1 lock, 2 legs, 1 hanger and 10 corner brackets.
Accessories can be used for both compact and mfc panel systems 12mm and 18mm thick to meet a variety of customer needs.
>>> See more 10+ models of high-end aogao toilet partition accessories.
>>> Customers who like black accessories see now the best-selling black stainless steel toilet partition accessories.
What is the price of plastic toilet partition accessories?
The outstanding feature of this type of plastic toilet partition is that it is made from high-quality solid plastic, so it is much cheaper than other popular materials such as 201 stainless steel, 304 stainless steel, and high-quality alloys.
Accessory quotes are mainly influenced by the number of accessory sets requested by the customer. In particular, this plastic accessory is only sold as a set, not sold separately as individual accessory components.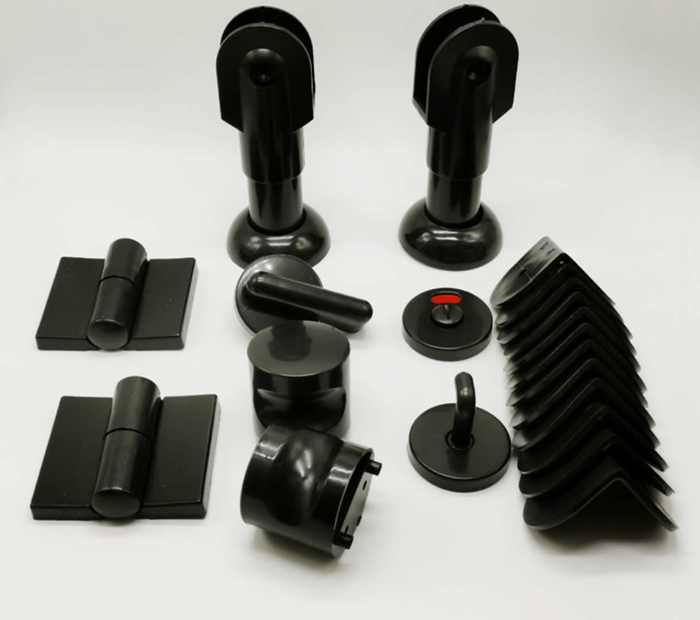 >>> Reference: price quote for all types of toilet partition accessories.
As a direct importer, in large quantities, without intermediaries, TOKY Toilet Partitions confidently brings customers good quality toilet partition products in general, and toilet partition accessories in particular, at good prices. cheapest on the market.
If you need to use partition materials or have any questions that need answering, please contact us immediately for advice and to receive the most preferential prices.