The harmonious overview of a toilet project is only considered perfect when there is a combination of toilet partition panels and high-end toilet partition accessories. Because, even the name can help you understand the value that they bring - class - luxury and life enhancement.
What types of toilet partition accessories are there?
Toilet partition accessories are one of the most important elements of a toilet partition project. Popular accessories include stainless steel, aluminum, high-quality alloys, and plastic. Each type of partition accessory has a separate design in size and style for each type of toilet partition to diversify choices for users.
Structure of toilet partition system
To have a complete toilet partition project, each toilet partition system must be completed from the following components:
- Stainless steel or alloy parts: Coat hangers, corner brackets, hinges, locks, handles and wall legs
- Aluminum part: Aluminum U wall, H joint, aluminum roof and aluminum roof,...
- Panel material: Compact hpl fully waterproof or humidity-resistant MFC panel with a variety of colors.
Technical characteristics of each part of toilet partition accessories
The high-end partition accessory set includes 5 components: partition legs, hinges, locks, corner brackets, hangers. Each component has its own task and function to create a sturdy, durable partition system over time.
- Partition feet: to lift and support the partition system.
- Hinge: there are two types: fixed and non-fixed. Helps form a solid rotating axis for the door when opening and closing.
- Lock: creates safety and privacy for users.
- Corner keel: Has the same effect as a wall tumor. Used to replace wall utensils.
- Coat hanger: Helps hang the user's belongings without contact with the floor. You should hang light weight items to increase product durability.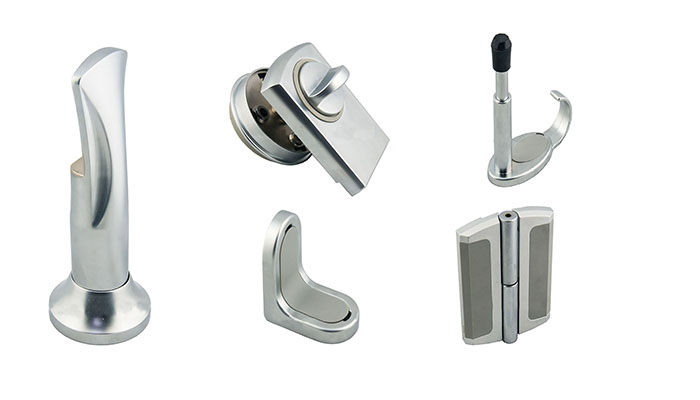 Photo of the complete set of high-end toilet partition accessories
Why should you use high-quality toilet partition accessories?
Currently, in addition to the 201 and 304 stainless steel sanitary partition accessory product lines, Toky also distributes a high-end sanitary partition accessory product line.
So why should you use high-quality toilet partition accessories? Because these are partition accessories with the latest designs, from the best materials with the highest convenience, giving users the ideal experience when using them.
>>> See information about TOKY's other synchronized toilet partition accessories products.
Choose high-quality or stainless steel toilet partition accessories?
In fact, high-end toilet partition accessories always give the maximum possible satisfaction, but that means a higher price compared to other lines. Therefore, choosing which type of toilet partition accessory depends on your intended use and financial situation.
The product lines of 201 or 304 stainless steel sanitary partition accessories are chosen by many users because of their reasonable price and relative durability. However, these types of accessories are suitable for general projects that do not require too strict perfection.
High-end toilet partition accessories always create perfect beauty, suitable for the most high-end and luxurious sanitary projects. High-end accessory sets are only sold as a set, each accessory is not sold separately. Retail price: 1,500,000 VND/set (2 legs, 1 lock, 2 hinges, 12 corner posts, 1 hanger).
Address selling reputable high-end toilet partition accessories
Toky.vn is a reputable address for selling high-end toilet partition accessories, under the management of distributor Toky.
At toky.vn, you not only get detailed updates on all Toky products and services but can also query information about promotions, warranty policies and construction progress of Toky. unit.
Officially put into operation in 2006, up to now, Toky is proud to be a companion to thousands of large sanitation projects nationwide and has become the No. 1 reputable distributor in the North for providing sanitary services. Toilet partition products for Vietnamese people. This achievement is thanks to Toky's efforts and commitment:
✔ Always have the most economical price policy. (See quote for toilet partition accessories).
✔ Provide products of the highest quality as committed to customers with a flexible return policy. (See return policy).
✔ Construction progress is guaranteed as signed, ensuring professionalism and safety.
✔ Good and long-term warranty policy. (See warranty policy).
You can request a quote for Toky products at Request a Quote on the website. Or go directly to the showroom to get advice from experts at 16 Nguyen Bo, Tu Hiep, Thanh Tri, Hanoi.
Additionally, you can call hotline 024.6327.3666 or 0977.29.2988. When calling the hotline, you will not only receive further advice on wholesale prices for sanitary partition accessories but also receive detailed advice on partition construction from Toky's team of skilled experts with many years of experience.