DETAILED INFORMATION ON TOKY'S 100% WATER-RESISTANT HPL COMPACT PANEL PRODUCT
Composition of HPL compact restroom partitions
With its 100% water resistance and durable material, HPL compact restroom partitions have become increasingly popular for modern construction projects, especially in the public restroom sector.
The composition of HPL compact restroom partitions includes HPL compact panels and restroom partition accessories (integrated accessories and shaped aluminum).
>> More details: HPL compact panels.
Some other common names for these partitions include composite plastic partitions, faux wood plastic restroom partitions, HPL restroom partitions, and water-resistant restroom partitions."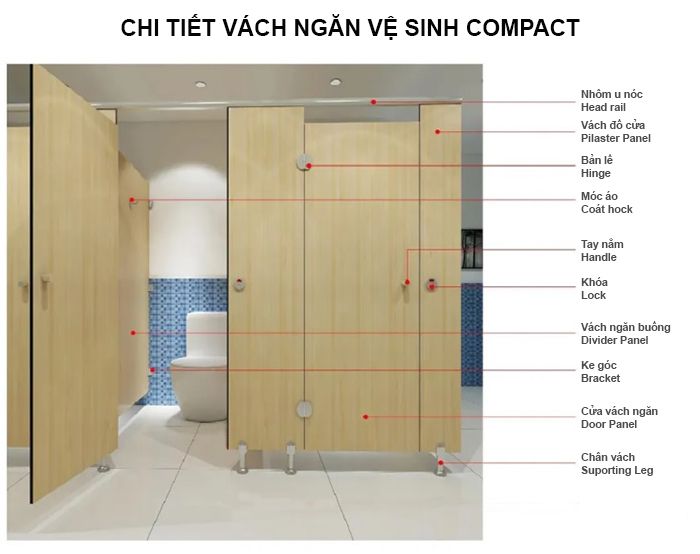 Structure of Compact HPL Panels
The key to achieving a perfectly waterproof Compact HPL restroom partition project lies in the initial step, which is also the most crucial – the selection of the highest-quality materials.
Type 1 Compact HPL restroom partitions, with their fully waterproof structure, offer numerous exceptional features:
- 100% Waterproof Capability: Type 1 Compact HPL panels are entirely waterproof, ensuring they remain unaffected by water. This is ideal for environments that are regularly humid, such as restrooms.
- Excellent Heat Resistance: They are not adversely affected by water and are highly suitable for damp environments.
- Melamine-Coated Surface: The Melamine coating enhances aesthetics, provides scratch resistance, prevents dust accumulation, and allows for easy cleaning and maintenance.
- Resistance to Mold and Bacterial Intrusion: Compact HPL restroom partitions are resistant to mold and bacterial growth, ensuring the safety and environmental friendliness of users.
- Diversity in Colors and Designs: They come in a wide range of colors and designs, making them suitable for all types of spaces, especially luxurious and modern ones.
- Simple and Lightweight Structure: These partitions have a straightforward structure, a lifespan of up to 20 years, and offer space savings when compared to traditional enclosed wall construction.
- Affordable Compact Panel Prices: The price of Type 1 Compact HPL panels for restroom partitions is lower than the cost of constructing fully enclosed walls.
- Space and Time Efficiency: Type 1 Compact HPL panels save space up to approximately 14 times and reduce construction time up to 8 times. They also reduce the load pressure on the floor and optimize the costs and labor required for restroom partition installation.
- Effective Drainage: These HPL partitions facilitate rapid water drainage through openings above and below, ensuring well-ventilated restroom spaces and quicker odor elimination.
- Easy Installation and Removal: Type 1 Compact HPL panels can be easily installed and removed using standard installation tools.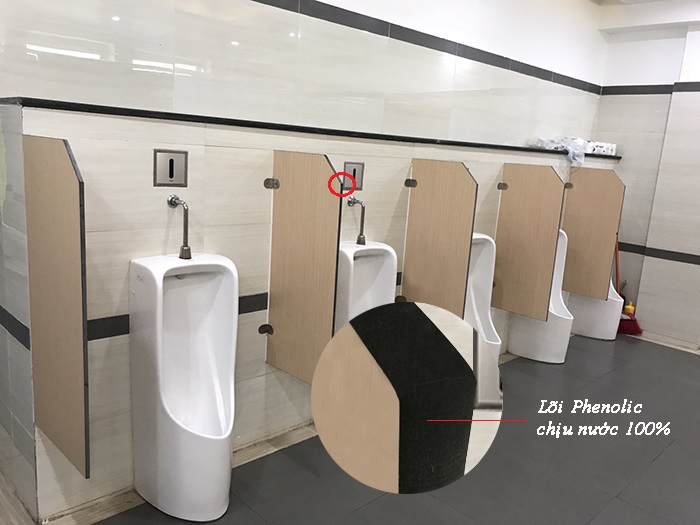 Many businesses have fallen victim to deception, using subpar compact restroom partition products with low functionality and a lifespan of only 4 to 6 months, while projects equipped with standard Compact panels can last for decades.
Dimensions of Water-Resistant Compact Restroom Partitions
Compact restroom partitions typically come in standard thicknesses of 12mm and 18mm. The standard sizes are as follows:
- Standard restroom partition sizes for adults are typically 1970mm or 2020mm in height, with door widths of 600mm.
- Small wall-mounted partition sizes: 400mm x 900mm or 500mm x 900mm.
- Small floor-mounted partition sizes: 450mm x 1220mm or 600mm x 1220mm.
Currently, Toky uses 12mm or 18mm standard thickness water-resistant HPL panels with a maximum deviation of <=0.5mm.
However, for projects without specific design drawings or for customers who are unsure about how to create a restroom facility that suits their space and budget, we are ready to provide detailed, entirely free support and advice.
Applications of Compact HPL Panels
The range of applications for Compact HPL panels is extensive, as they are used for both interior and exterior projects that require durability and corrosion resistance. Some common applications include:
- Restroom partitions in industrial areas, export processing zones, office buildings, shopping centers, conference halls, airports, ports, hospitals, schools, and more.
- Shower partitions in gyms, yoga studios, public swimming pools, sports centers, and arenas.
- Changing room partitions in fashion boutiques and shopping centers.
- Waterproof tabletops for schools.
- Sinks and washbasin units integrated with restroom partitions in public restrooms.
- Compact lockers for personal items in public bathrooms, swimming pool areas, and steam rooms.
| | | |
| --- | --- | --- |
| Waterproof restroom partitions | Compact HPL bathroom walls | HPL changing room partitions |
| Water-resistant Compact lockers | HPL tabletops | Compact lavatory cabinets |
Furthermore, TOKY also offers a product line of acid-resistant Compact panels, specially designed to withstand various strong acids, primarily for laboratory applications.
Bathroom Partition Accessories: What's Included?
Bathroom partition accessories can be divided into two main groups: standardized accessories and aluminum structural accessories. Here are the details:
- Stainless Steel Accessories: These include partition feet, hinges, corner brackets, locks, handles, and clothing hooks made from stainless steel materials, such as stainless steel 201 and premium stainless steel 304.
- Aluminum Accessories Set: This set includes aluminum cover bars, aluminum edge profiles (12mm and 18mm edge profiles), aluminum H-joints, aluminum U-profiles, aluminum V-corners, and aluminum U-walls.
*Warning: Some 304 stainless steel accessories on the market are counterfeit, such as the stainless steel 304 partition feet that have a 201 stainless steel base, causing rust and wear. The best way to verify product quality is by using a testing kit.
In addition to the standard products, TOKY also directly imports premium accessories from brands like Aogao, Maghin, and Hafele to meet project-specific needs.
For more details, visit: Bathroom Partition Accessories.
If you're interested, request a quote for bathroom partition accessories.
| | |
| --- | --- |
| Stainless Steel 201 Accessories Set | Stainless Steel 304 Accessories Set |
| Premium Accessories Set | Aluminum Structural Accessories |
All of the accessories used by TOKY are 100% genuine imported accessories, of high quality, such as inox 201, inox 304, Aogao, Hoode, Hafele (based on customer demand). They come with a warranty of up to 12 months and are eligible for free replacement (1 for 1) according to current regulations.
Commonly used domestic accessories like inox 201, inox 304 have certifications from the General Department of Standards, Metrology and Quality, and possess complete factory production documents.
How much does an HPL compact panel cost?
Based on realistic analysis, using water-resistant HPL toilet partitions instead of traditional ones can save up to 8 times the cost.
The price of compact bathroom partitions depends on several factors. Among them, the key factors that directly impact the pricing of restroom partitions include:
Color

Panel size

Type of order (panels, accessories, or complete toilet partition installation)

Geographical location of the project

Project size
To get the most accurate quote for HPL compact toilet partitions tailored to your specific project, customers should provide essential project details, such as detailed layout drawings or approximate project quantities, construction location, panel type (size, color), and accessory type.
For the most up-to-date and comprehensive pricing information, please refer to our detailed compact toilet partition price list.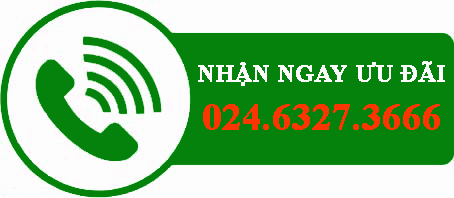 As a direct importer and manufacturer of restroom partitions, TOKY guarantees to provide high-quality compact HPL panels at the best prices in the market.
According to real-world statistics, HPL compact panels currently dominate the restroom partition market in Vietnam due to their competitive pricing and high durability, effectively meeting all construction needs.
Distinguishing between Compact Partitions Type 1 and 2 is essential
When assessing the entire market, customers may be perplexed when faced with price fluctuations in Compact HPL restroom partitions.
Based on our experience and market supply, Compact panels are categorized into three types:
Compact HPL Type 1: Made from Phenolic resin, it has 100% water resistance, standard compression strength of 1430psi, and a thickness of 12mm. It is used for water-resistant restroom partitions and HPL restroom partitions. Please note that TOKY exclusively provides high-quality HPL partitions, and we do not offer inferior quality Compact panels.

Inferior Quality Compact HPL Panels: These are essentially Compact HPL panels with 100% water resistance, but they have a thickness ranging from 10.5mm to 11.4mm, and they exhibit significant warping. Many suppliers use this material in place of standard Compact HPL, resulting in warped and non-closing restroom doors.

CDF (Compact Density Fiber Board) or HDF (High Density Fiber Board) Panels: These are economical Compact panels, but they are not HPL Compact panels. The primary component is compressed wood at high pressure, with water resistance of less than 80%. Their compression strength is lower than the standard, typically at 950psi, 1050psi, 1200psi, or 1400psi. These panels have a lifespan of less than 3 years. The lower the compression strength, the greater the expansion, and the shorter the lifespan.
Please remember, our valued customers, that "Compact panels with compression strength lower than 1430psi (or lower quality such as 1400psi, 1200psi, 1050psi, 950psi) are not considered and should not be called HPL compact panels."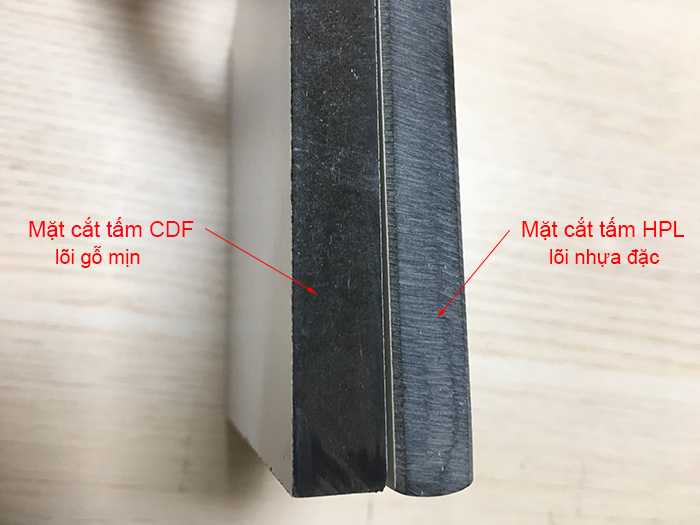 CDF panels, with a low wood core compression, are significantly less water-resistant than HPL panels.
If a company quotes a price of 600,000 VND per square meter for 100% water-resistant HPL compact restroom partitions, including all other costs such as materials, manufacturing, and installation (labor, installation, warranty, and maintenance), would you believe it?
Be cautious!
That price is unattainable for the highest-quality partitions!
Because the cost of genuine Type 1 HPL panel materials does not match that price, not to mention other expenses like labor for installation, warranty, and maintenance...
However, many customers are easily swayed by such an unbelievable price. When presenting samples, these companies will showcase the most beautiful and highest-quality products. But in reality, the choice of compact restroom partition materials for the project is a different matter.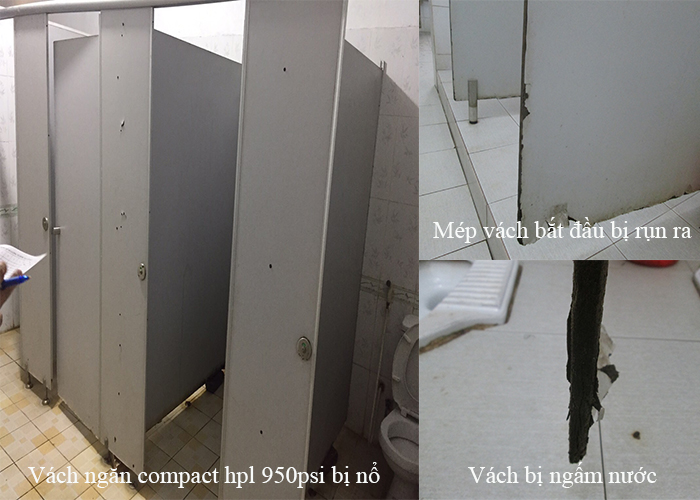 Compact restroom partition cdf 950psi
The Scheme of Blending Low-Quality Compact Restroom Partitions
Any panels of inferior quality compared to the standard, genuine Compact HPL restroom partitions are categorized as Compact Type 2.
Currently, a product line called Compact Density Fiber Board (CDF) has emerged in the market. They have colors and designs identical to Type 1 Compact panels, but the cost is significantly lower. Especially, the 1400psi compression Type 2 Compact panels are challenging to distinguish from Type 1.
Hence, some companies have utilized these CDF panels, either entirely or blended at less noticeable locations like intermediate partitions (or partitions near the door) to reduce the product's cost and offer lower quotes to customers.
Products of lower quality have substantially lower initial costs, so having lower quotes is understandable. Customers seeking budget-friendly options are immediately drawn to the offerings of these less reputable suppliers.
Before passing judgment on whether the quotes for Compact panels provided by any supplier are high or low, expensive or affordable, it is crucial to ascertain the quality of the materials they offer within which category - Category 1, 2, or 3, as we have explained in detail in the section "Understanding Compact Restroom Partitions Types 1 and 2," above.
However, customers should also be aware that a higher price for Compact panels does not necessarily mean a better product.
Don't miss the real-life test video of Type 1 and Type 2 Compact panels below:
TOKY is the leading company in the Northern region specializing in distributing restroom partition products and providing construction and installation services for restroom partitions.
TOKY affirms and guarantees that our product quality is always of the highest level, whether it's a supply order or a turnkey project. We commit to delivering products exactly as discussed with our customers.
If you have any questions regarding Compact partitions, please don't hesitate to contact TOKY for assistance.
Benefits of purchasing Compact HPL restroom partitions from TOKY.VN:
TOKY is the largest Compact HPL warehouse in Vietnam and directly imports a large quantity, ensuring we always have 10,000 panels and accessories in stock for immediate supply to our customers.

Our quality is rigorously inspected (full CoC certification), and our prices are competitive, up to 10% lower than the market.

Customization to customer specifications with free 2D and 3D design for projects.

Completely free of charge for cutting and CNC machining, the most advanced and exclusive CNC edge cutting technology in Vietnam for turnkey projects.

We maintain a construction pace of 100m2/day, offering a 12-month warranty.

Utilizing advanced tools to maximize material efficiency for your project.

Free transportation for all turnkey construction projects.
Don't overlook the complete range of waterproof bathroom partition products for modern spaces.
Not only are we a direct importer of HPL compact panels, but we also provide a high-quality range of bathroom partitions made from moisture-resistant MDF and MFC. These products come in diverse colors and are perfect for customers looking for cost-effective materials that still guarantee quality and durability for their projects.
Why choose Toky's compact partitions?
It's not a coincidence that TOKY is trusted and highly rated by customers, earning the title of the number one bathroom partition provider in Northern Vietnam. We take pride in being the leading distributor of bathroom partitions in the North for several reasons:
✔ Toky exclusively uses 100% genuine HPL compact panels and synchronized accessories, of the highest quality. We strictly avoid type 2 plastic compact partitions of lower quality.
✔ We provide a completely free CNC cutting and shaping service for compact panels, utilizing the most advanced and exclusive technology in Vietnam.
✔ Our installation is fast, adhering to schedules and meeting the technical requirements of investors, regardless of project size or location.
✔ We have the capacity to undertake multiple large public bathroom partition projects simultaneously.
✔ We offer the most attractive pricing for all customer groups with the best discounts available today.
ENJOY UP TO 10% OFF ON HPL COMPACT PARTITION QUOTES AND FREE SHIPPING FOR EVERY BATHROOM PARTITION CONSTRUCTION PROJECT.
TOKY Bathroom Partitions always aims to deliver the best quality waterproof and moisture-resistant compact bathroom partitions with the most competitive prices in the market. We ensure that all construction projects meet the required progress and undergo quick inspections.
For more information about MFC toilet partitions and MFC bathroom partition pricing with budget-friendly options, please contact us.
Contact us today, as we always have promotions and significant discounts to show our appreciation to the customers who trust and use TOKY's services.