Following compact restroom partitions, MFC industrial wood restroom partitions are commonly used for moisture-resistant restroom projects. These products are chosen for their relative durability and cost-effectiveness. Genuine products are distributed by TOKY Restroom Partitions.
Types of MFC Restroom Partitions
MFC industrial wood panels on the market are divided into two types:
- Standard type (less commonly used for restroom partitions, mainly used for office furniture).
- Moisture-resistant green core type (specifically used for moisture-resistant restroom partitions), with a thickness of 18mm.
The MFC panel used for moisture-resistant restroom partitions has a special core structure compared to other MFC products. It has a green speckled core that provides high resistance to moist environments and excellent water resistance. This green speckling is actually a moisture-resistant chemical mixed with the adhesive during the panel's production. The surface of the product is identical for both types of panels.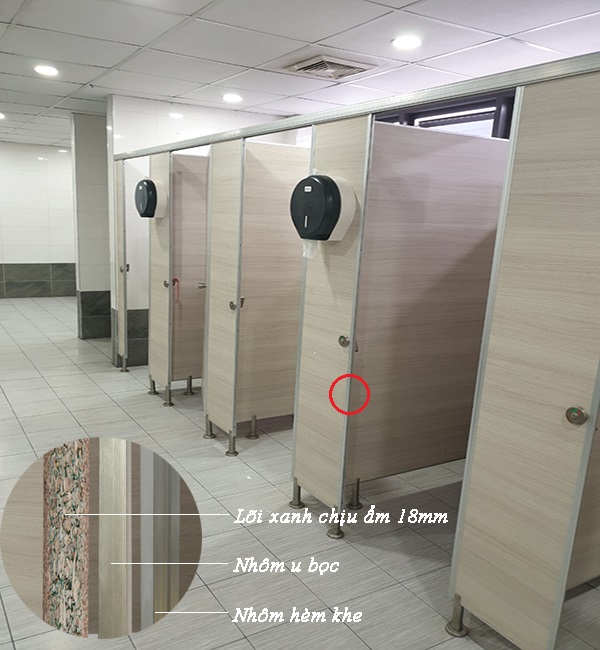 Structure of MFC Panels
MFC (Melamine Face Chipboard) restroom partitions are made from industrial wood particles bonded with green adhesive.
The construction of MFC restroom partitions includes moisture-resistant MFC panels, stainless steel accessories, and shaped aluminum frames.
The moisture-resistant MFC panel is a type of panel with a core made of moisture-resistant processed plywood. The panel's surface is coated with water-resistant, scratch-resistant, and dirt-repellent Melamine (or Laminate) layer. Moisture-resistant MFC panels have excellent impact resistance, are warp-resistant, and do not crack.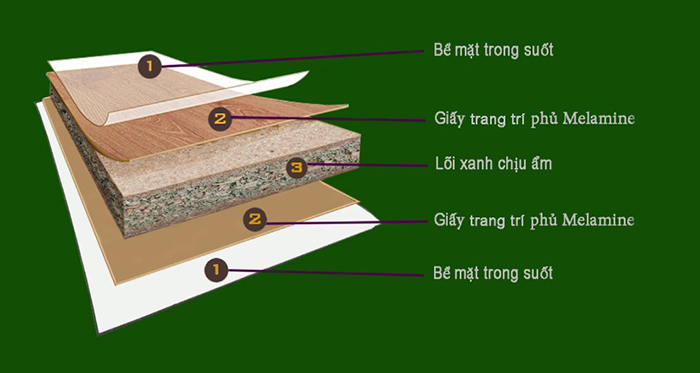 Differences in Accessories for MFC Restroom Partitions
Similar to compact restroom partition products, accessories for moisture-resistant MFC restroom partitions include two main types: stainless steel accessories and shaped aluminum frames to provide aesthetics and sturdiness for the entire project.
One unique feature of MFC accessories that compact materials lack is the 18mm thick U-shaped aluminum protective covering, specifically designed for MFC panels. This design addresses the fact that MFC panels, being made from industrial wood, are not inherently water-resistant. The U-shaped aluminum accessory acts as a strong barrier to protect the edges of the MFC panels from water contact.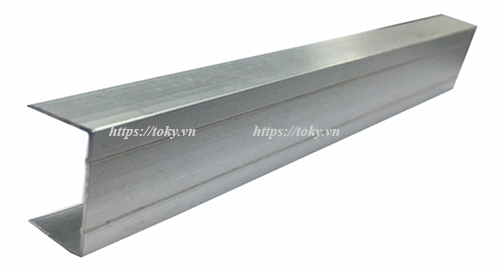 Aluminum U-channel covering restroom partitions
Advantages of MFC Restroom Partitions
- Excellent Moisture Resistance and Water Resistance: Despite being made of industrial wood that has undergone treatment, MFC restroom partitions are on par with natural wood in terms of durability and aesthetics. These restroom partitions are inherently moisture-resistant, although they do not have the same level of water resistance as compact partitions. To address this, manufacturers have developed a set of aluminum U-channel accessories that enhance their water resistance.
- Easy to Clean and Maintain: MFC restroom partitions are incredibly easy to clean and maintain, requiring only a damp cloth for cleaning. However, caution is needed when using cleaning chemicals to avoid any impact on the quality and durability of the product over time. Additionally, all the panel's cut edges are sealed with U-shaped aluminum and silicone injection during installation to prevent water or moisture from infiltrating.
- Variety in Design and Colors: It's undeniable that MFC restroom partitions offer a relatively diverse range of designs and color options. These options include black, silver, white, gray, and more. For institutions like schools, conference centers, or shopping malls, the choice is often a clean, bright color. Meanwhile, play areas and restaurants frequently use vibrant colors like green, sky blue, red, or black to add a touch of creativity and architectural distinctiveness.
- Affordable Pricing: Notably, MFC restroom partitions are among the most affordable options in the current market. This makes them a popular choice for public restrooms in places such as shopping centers, schools, hospitals, and more.
- Easy Installation and Transportation, Cost-Effective: MFC restroom partitions are relatively lightweight and designed as individual panels, making them easy to install and transport. This not only saves time but also reduces construction costs. Furthermore, they enhance the aesthetics of restroom spaces.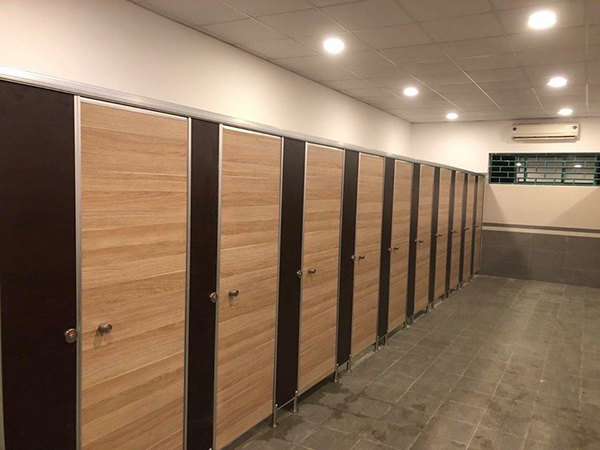 Applications of MFC Partition Panels
With their durable structure, lightweight design, effective fire resistance, scratch resistance, and excellent moisture resistance, MFC restroom partition systems find widespread application in both residential and industrial construction projects. They offer high economic efficiency, save space, and enhance the sophistication and aesthetics of the facility.
Based on their utility and inherent advantages, MFC panels are primarily used in two main types of construction:
- Office Furniture: MFC panels are well-suited for crafting office furniture such as cabinets and desks. For areas prone to moisture, MFC panels that have been laminated and melamine-coated are recommended to provide the best moisture resistance for the furniture.
- Restroom Partitions: Industrial MFC restroom partitions are uniquely designed with a core layer featuring green specks, which results from a chemical mixed into the adhesive during the lamination process. This design enhances their ability to withstand moisture effectively. Hence, they are suitable for environments that are susceptible to moisture, making MFC panels an ideal choice for restroom partitions.
Modern mfc toilet partition model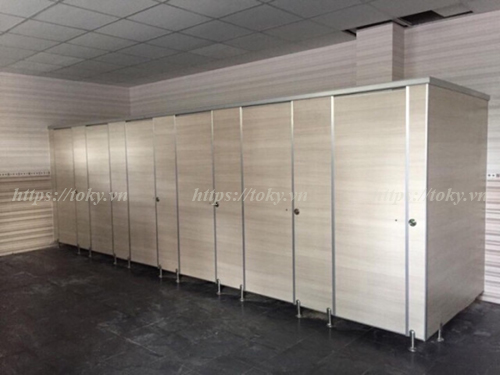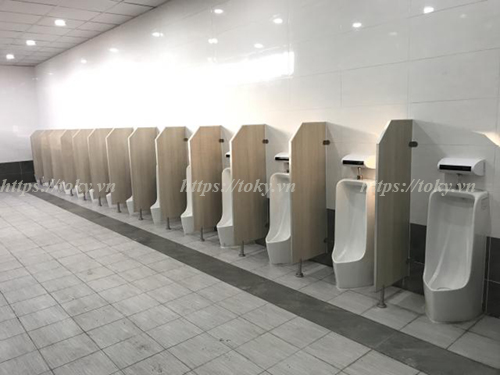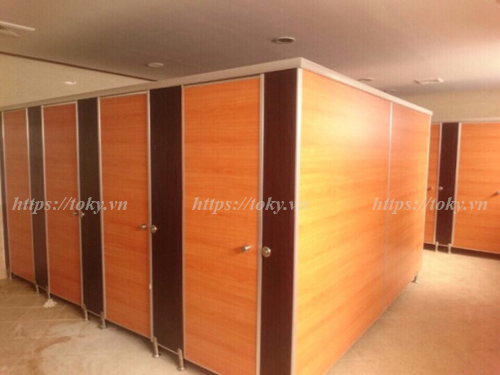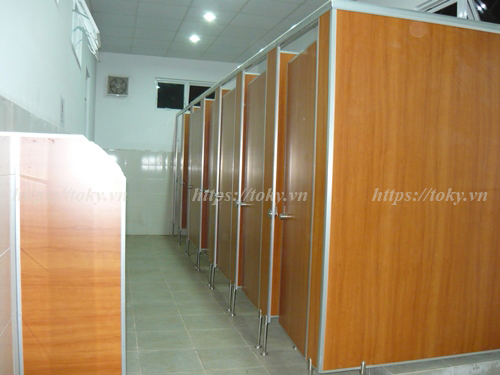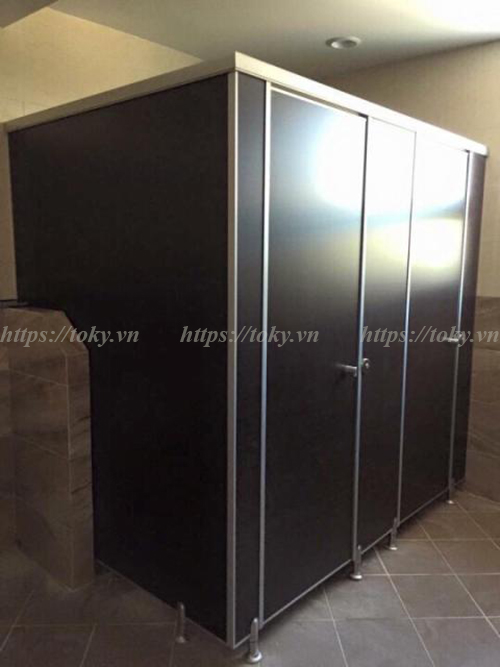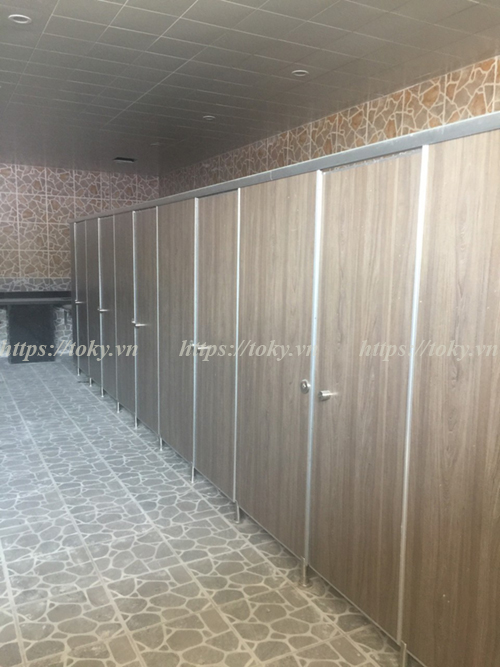 >>> See more: toilet partition projects.

Why Do Customers Choose MFC Restroom Partitions at TOKY?
Established in 2007, TOKY is one of the leading providers of restroom partitions in the northern region of Vietnam. With several outstanding advantages, TOKY has earned a highly regarded reputation for quality and service, making it a trusted choice for customers. Here's why customers prefer TOKY:
- State-of-the-Art Facilities: TOKY possesses two large storage facilities for compact panels and accessories, located at 16 Nguyen Bo, Tu Hiep, Thanh Tri, Hanoi, and Thoi An Ward, District 12, Ho Chi Minh City. Additionally, the MFC moisture-resistant panel production workshop is situated in the Quat Dong Industrial Zone, Quat Dong Commune, Thuong Tin, Hanoi. This vertical integration allows TOKY to manufacture and process materials without intermediaries, ensuring the most competitive prices in the market.
- Quality Assurance: TOKY is committed to being the top-quality provider in the market. With cutting-edge machinery and the most advanced automated production lines (cutting, grinding, and cleaning), they guarantee that projects are executed quickly, durably, and with the utmost aesthetics. Their products meet ISO 9001-2015 standards, have complete Certificates of Origin and Quality, and meet the standards of Japanese contractors.
- Attractive Offers: TOKY offers free 2D and 3D designs, free transportation within the city, and complimentary transportation for suburban projects exceeding 100 square meters. They provide enticing deals for suburban projects. You can review TOKY's shipping policy for further details.
- Dedicated Service: TOKY ensures that your requests are fulfilled within 48 hours of receipt and provides a 12-month warranty for all projects. You can find more details about TOKY's warranty policy.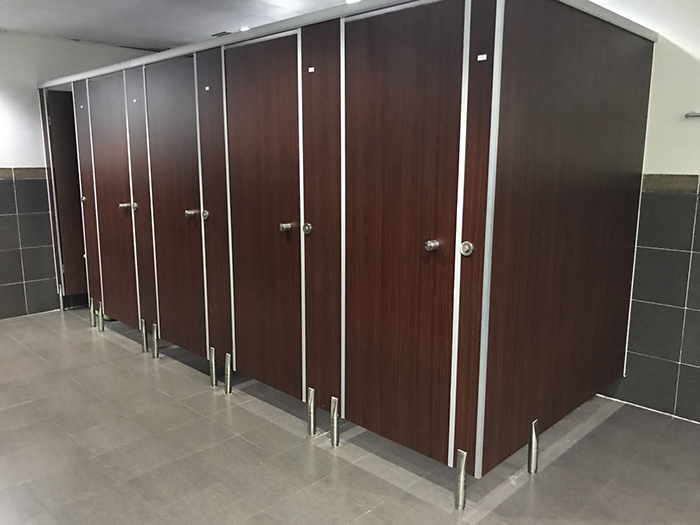 Mfc toilet partitions at Fujigiken Vietnam
Promotions When Installing MFC Restroom Partitions
TOKY is currently running a special promotion, offering customers significant benefits when using MFC restroom partitions:
Free consultation and design for all projects (2D, 3D).

Free transportation for large orders within the city. Support for transportation for orders outside the province.

Commitment to the highest quality, with moisture-resistant green core standards.

Rapid, technically precise completion, ensuring a progress rate of 100 - 200 square meters per day.

Up to 10% discount on bulk orders for materials and construction.
With hundreds of compact and MFC restroom partition projects completed every year, TOKY continues to solidify its position in the restroom partition market. We always strive to provide our customers with the best restroom partition products and the most favorable prices in the current market.
If you are interested in higher-quality products, take a look at our compact restroom partitions and the latest updated price quotes for compact HPL restroom partitions from TOKY.
Contact now! Limited offer!