Partition walls in bathrooms made of high-pressure laminate (HPL) plastic material are increasingly popular in various public bathroom projects today with the purpose of cost-saving, enhancing durability, and improving aesthetics.
How is the bathroom wall made of compact plastic constructed?
A complete compact bathroom partition is always composed of main components: HPL compact panels, stainless steel accessories, and shaped aluminum frame.
The HPL compact panel for the bathroom partition is made by combining kraft paper, decorative colored paper soaked in phenolic resin, then pressed under a temperature of 150°C and pressure up to 1430 psi to form a solid sheet, a rigid core according to European quality standards. The two surfaces of the panel are coated with scratch-resistant Melamine for aesthetic appeal.
Stainless steel accessories come in two main types: stainless steel 201 and stainless steel 304. Additionally, there are high-grade alloy accessories, aogao, and hafele specially used for high-end projects.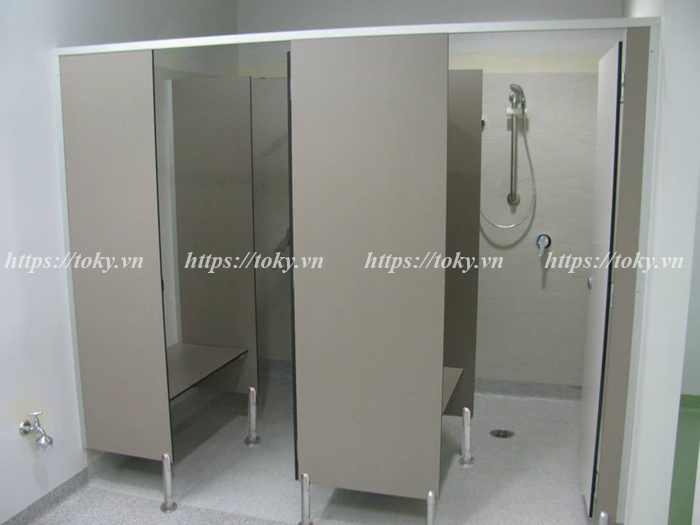 Why is the HPL compact bathroom partition favored?
Choosing plastic bathroom partitions made from compact panels isn't a coincidence. Experts apply compact panels to bathroom partitions because they have many significant advantages (affordability, durability, aesthetics), particularly for public bathroom projects:
- 100% water resistance.
- Ensures absolute privacy, significantly different from glass bathroom partitions or frosted glass partitions.
- Creates ventilation, regulates space, and prevents the proliferation of germs in moist environments, ensuring user health and avoiding stuffiness during long showers.
- Superior heat resistance, chemical resistance, and very high durability. The product's lifespan can extend up to 20 years or more.
- Compact structure, easy for installation and construction. Compared to toughened glass partitions of the same size, the weight of toughened glass is over 3.6 times heavier than compact panels, making transportation and installation more challenging.
- The price of compact shower partitions is reasonably average, fitting users' budgetary needs.
- Variety in colors and designs offers diverse choices to suit every space.
- Additionally, compact bathroom partitions help save up to 11 times the space in your area.
>>> See more: compact toilet partitions.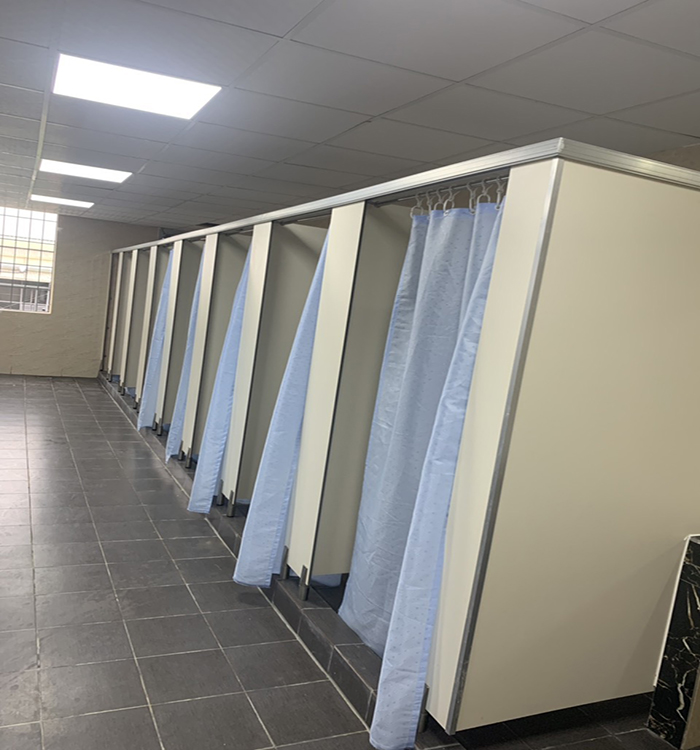 The standard dimensions of bathroom partitions
In essence, the standard for bathroom partitions is similar to that of toilet partitions, based on the required dimensions and the average minimum height of an adult. Specifically:
- The minimum area per room is 2.5m2.
- Partition height: 1970mm when using 100mm legs and 2020mm when using 150mm legs.
- Door height: 1.9m.
RECOMMENDATIONS WHEN USING COMPACT PANELS FOR BATHROOM PARTITIONS
Due to the distinctive characteristics of compact panels, there is a tendency for the surface of the panel to swell when used in the construction of bathroom walls, especially under high-frequency use of hot water.
Even when using type 1 HPL compact panels, with a core that is 100% waterproof, this swelling issue cannot be entirely avoided.
We do not warranty the compact panel for completed bathroom wall construction projects.
Dimensions of compact panels for bathroom partitions
Commonly used HPL compact panels for bathroom partitions come in the following standard sizes:
- For 12mm thick compact panels: 1220 x 1830 mm, 1525 x 1830 mm, 1830 x 2440 mm
- For 18mm thick compact panels: 1220 x 1830 mm, 1525 x 1830 mm
These are standard panel sizes. Using these sizes helps save costs significantly due to large production quantities, ensuring availability.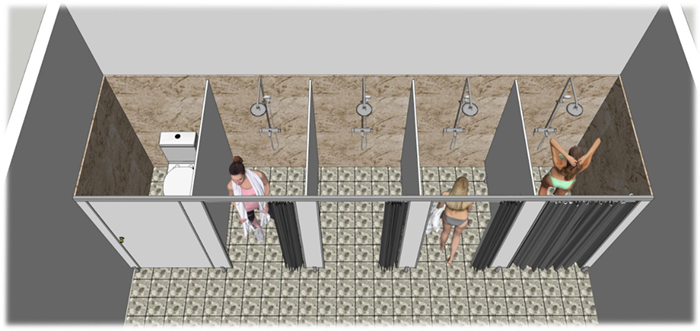 3D design drawing of standard bathroom partitions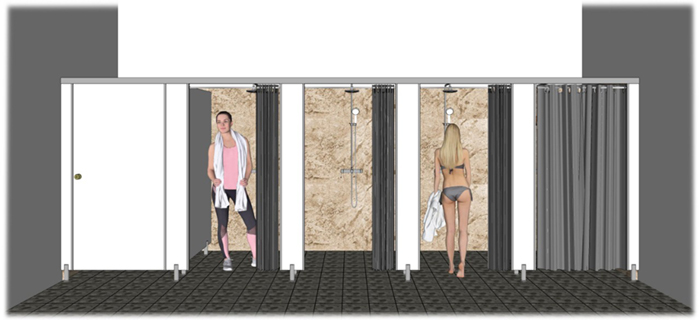 3D design drawing of standard bathroom partitions
Quote for bathroom partitions made of hpl compact panels
The price of bathroom partitions depends on specific factors such as the bathroom size (standard or non-standard), the bathroom area (the quantity of walls needed for construction), color, type (12mm or 18mm), whether the customer self-installs materials or requires a completed bathroom construction, etc. The cost for constructing bathroom partitions will range from 730,000 to 1,250,000 VND per square meter for completion.
Therefore, we highly recommend that customers provide detailed drawings of the bathroom area requiring construction to receive the most accurate and advantageous price quotes.
>>> You should fully review: Price quotes for HPL compact partitions - Type 1 bathroom partitions.
Affordable and professional complete bathroom partition construction company
TOKY is a direct importer of raw materials for panels and accessories in large quantities, manufacturing directly, and executing wall partitions without intermediaries. Therefore, the quality is strictly controlled with much more competitive pricing than other units, with the motto "LONG-TERM COOPERATION."
All products are type 1, high-quality with full CO and CQ (original certificate). TOKY strictly avoids type 2 partitions, low-quality products, and those with low durability.
Apart from distributing and executing toilet partitions, changing room partitions, TOKY directly executes public bathroom partitions for all categories, such as water parks, swimming pools, fitness areas, etc.
With a team of 10 highly skilled technicians, we commit to technically correct executions, meeting project schedules from 100m2 to 200m2 per day for projects requiring rapid progress.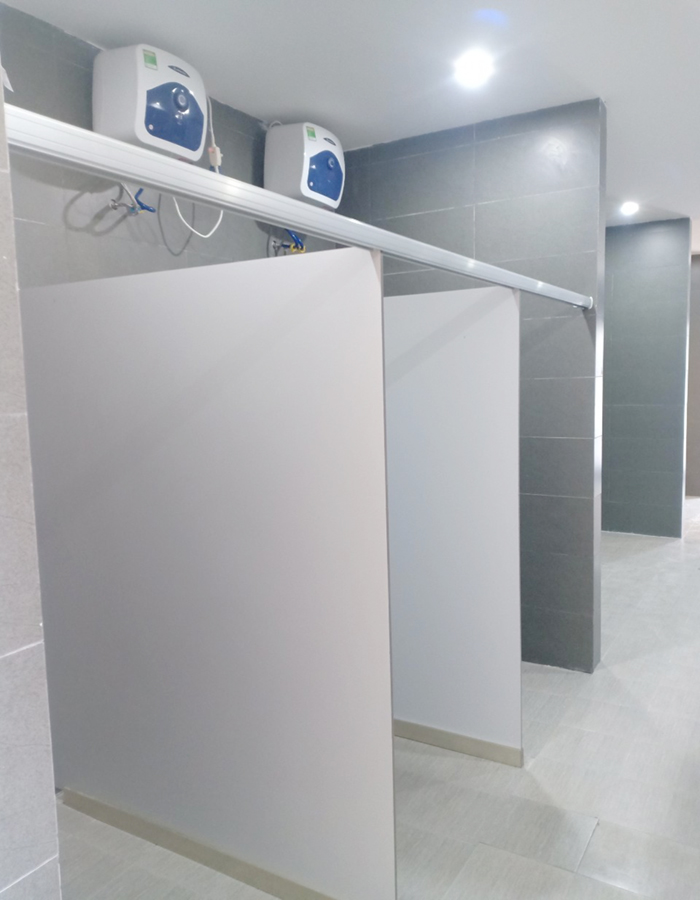 Any customer collaborating with TOKY realizes that our most significant difference from all other partition units is the utilization of the most advanced CNC panel grinding technology in Vietnam. This technology is entirely free. The equipment, directly imported from Germany, is used to grind and round the edges of compact panels, ensuring absolute aesthetic perfection.
Customers looking to purchase DIY bathroom materials or in need of full bathroom partition installation, please contact us directly for the most comprehensive support.
0977.29.2988