In places where many workers gather, factories always prioritize the installation of sanitary facilities with suitable partitions for cleanliness, easy maintenance, and cleaning. Let's explore with TOKY how to properly install sanitary partitions for factories in a cost-effective manner!
Which type of sanitary partition is suitable for factories?
There are various types of sanitary partitions available in the market to meet the different needs of various factories, such as partitions made of plastic, partitions made of cemboard (or cement, cement board), and partitions made of toughened glass. However, the following two types of sanitary partitions are still favored in factories due to the advantages they bring.
Sanitary partitions for compact HPL factory
Compact HPL partitions have many outstanding advantages compared to other types of sanitary partitions: Excellent water resistance, impact resistance, termite resistance, no dirt adherence, easy cleaning, and long-lasting durability…
Compared to MFC partitions, compact partitions have much better water resistance. They possess high rigidity and durability, and they cannot even be altered in high oxidative and humid environments.
Therefore, the construction cost of compact HPL factory sanitary partitions is higher compared to other materials.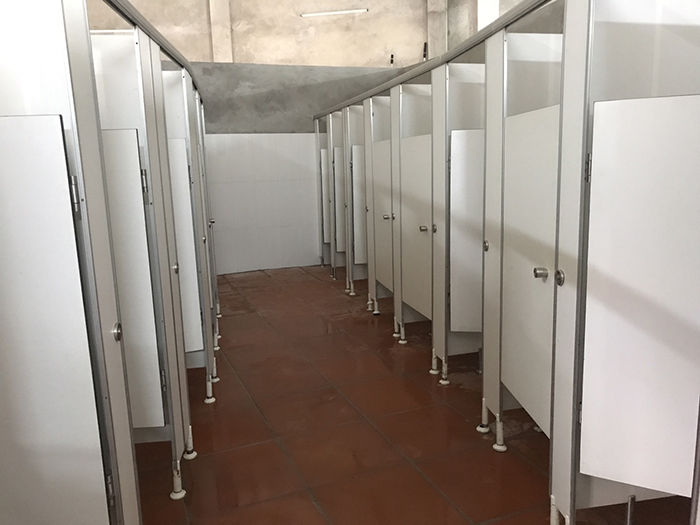 Sanitary partitions for MFC factory
MFC wood is wood chipboard coated with Melamine resin, including two types: regular MFC and moisture-resistant MFC with various colors, suitable for most factories. The advantages of partitions made of MFC wood are good moisture resistance, impact and scratch resistance, resistance to chemical agents, easy cleaning, easy assembly with common tools, high durability, and aesthetic appeal.
However, as MFC wood is moisture-resistant but not entirely waterproof, its durability is somewhat lower. To enhance its waterproof capability, it will be installed with accessories to increase its durability.
One advantage of MFC sanitary partitions is their relatively 'affordable' price compared to similar products.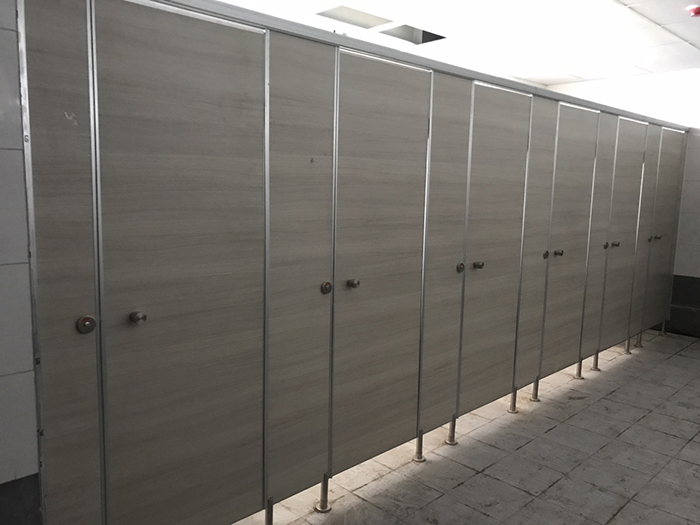 Cost of installing sanitary partitions for factories
Usually, to install sanitary partitions in factories, TOKY needs to conduct a survey first to choose the customer's materials and the area to be constructed, in order to provide an estimated time for project completion.
With an experienced team, we will advise and help you choose the most suitable installation plan for factory sanitary partitions, ensuring a rapid construction progress of approximately 200m2 per day.
The cost of installing factory sanitary partitions often depends on the following factors:
- The materials chosen for installing factory sanitary partitions
- The area of the construction site
- The time required for completion
You can refer to TOKY's detailed and comprehensive updated price list for installing sanitary partitions. VIEW PRICE LIST.
ASEA DAERYUN factory

FUJIKIN factory

YOUNGBO VINA factory

Samsung Thai Nguyen

Smac factory

VINASTARTUP factory

Fine Elecom Vina factory

LGG Bac Giang garment company

Mcnex Ninh Binh factory

Toyoda Gosei factory

New Advances Electronics Technologies factory

Autel factory, Hai Phong

Daikin factory

Gia Anh chemical plant

Bujeon Vietnam Electronic

Vina New Flex Vinh Phuc factory

Futurelink International Human Resources Company

Amtran Factory

Honda Ha Nam factory

Chunqui Factory

Du Phat fashion manufacturing factory
Choosing a company to install factory sanitary partitions?
Currently, there are many suppliers offering materials, accessories, and installation services for partitions in public restrooms, with varying levels of quality, some truly reliable while others lack quality assurance. How can one choose the best company to supply and install high-quality partitions at a reasonable price?
TOKY is a leading company in the field of installing sanitary partitions and is a trusted partner of investors, having completed thousands of projects, large and small. Particularly, in factories such as: Gia Anh chemical plant, IDE factory, SAMSUNG electronic component manufacturing plant...
TOKY possesses outstanding advantages in the industry, establishing a strong reputation as the number one choice for installing factory sanitary partitions.
>>> See more TOKY's Profile.
Especially, currently, TOKY is the only company in the Vietnamese market using CNC automatic panel grinding machines to cut, grind, and round the edges with a smooth, glossy, and highly precise finish to every millimeter. This advantage brings aesthetic appeal to the project and significant time and cost savings for businesses.
Best warranty policy on the market: 10-year warranty for the water-resistant feature of Compact panels, 12-month warranty for the entire project, and ensuring the slowest response time within 48 hours from the time of the request.
Please contact the hotline: 024.6327.3666 or 0977.29.2988 for detailed advice.