The Stainless Steel Leg 304V1 in TOKY's warehouse has a slot of 12mm and is designed for use with 12mm thick Compact panels. The leg is adjustable from 100 - 140mm, depending on the user's needs and purposes. The 304V1 leg accessories are manufactured according to standard dimensions.
- Leg Head (Solid Cast): This part has a groove that firmly holds the panel on both sides. To prevent the partition from shaking, make sure to use a leg with a suitable groove. Use screws to fasten it to the holes, connecting the leg and the panel.
- Leg Base: The leg base comprises a base, threads, and adjustment screws. The threaded part is about 5.5 cm long, enabling the leg to be adjusted on sloped surfaces during installation. When working on the installation, workers will use expansion screws and #3 screws to secure the leg base to the floor.
- Cover Tube: The cover tube consists of two components. One covers the leg base, and the other conceals the adjustment screw.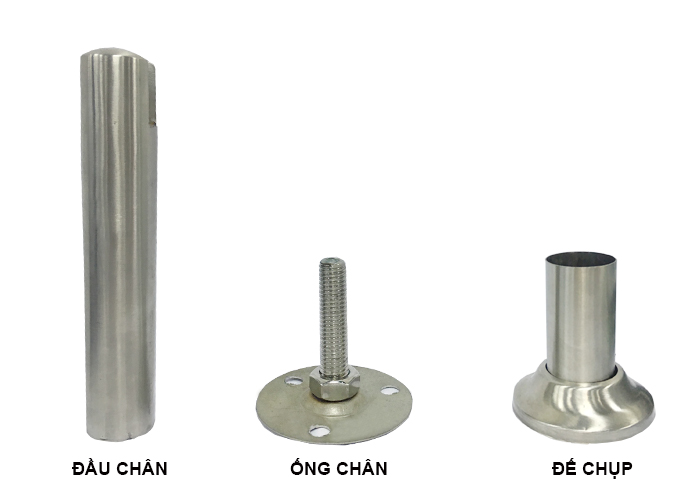 Toilet partition legs serve as a structural foundation, supporting the entire partition system. They prevent direct contact between the partitions and the floor, creating a small space underneath for air circulation within and outside the restroom. Despite a higher cost compared to hollow legs, these legs are favored by discerning investors and contractors.
These legs boast excellent water resistance and resistance to chemical wear and tear. Their affordable price, coupled with their durability, makes them a preferred choice for many customers. The retail price for these accessories is 110,000 VND per piece.
View TOKY's price list for restroom partition accessories.
How to Distinguish Genuine TOKY V1 Toilet Partition Leg Accessories
Each genuine TOKY stainless steel 304V1 toilet partition leg accessory is imprinted with the TOKY logo, ensuring high-quality and authentic products. This feature helps customers easily identify and differentiate these genuine TOKY branded accessories from other restroom partition accessories available on the market. (See real photos below).
Packaging and Transportation of 304V1 Toilet Partition Legs
It's advisable to minimize contact with chemicals and cleaning agents. If cleaning with a detergent is necessary, opt for mild ones. Rinse thoroughly with water to remove any remaining detergent on the surface of the toilet partition legs. Otherwise, the accessories may become stained or corroded, affecting their aesthetics and incurring additional costs for restoration and upgrades.
Toilet partition legs are in direct contact with the floor, so it's important to take extra care during usage, cleaning, and maintenance to enhance their durability and aesthetics.
TOKY's 304V1 toilet partition leg accessories are authentic products, rigorously inspected for quality and aesthetics. They come with complete certificates of origin and quality (in the original form).
- Packaging: The products are packaged in nylon bags to prevent scratches and impact. The standard packaging is one piece per bag.
- Delivery Time: Typically, delivery occurs within 1-3 days after payment (special arrangements may be made).
- Delivery Location: Delivery can be made at TOKY's warehouse or at a location agreed upon with the customer.
- Payment Conditions: Full payment is required before delivery.
- Warranty Conditions: Products are eligible for free exchanges according to the stipulated terms. Please refer to TOKY's warranty policy for more details.
TOKY's stainless steel 304 legs are manufactured with 100% stainless steel components. The products meet strict quality standards, have full certificates of origin and quality, and come with a commitment to quality, long-term warranty, and exceptional after-sales service.
These are some details about the products offered by TOKY Restroom Partitions. We hope that this information will help you make the best choices for the items you intend to use.